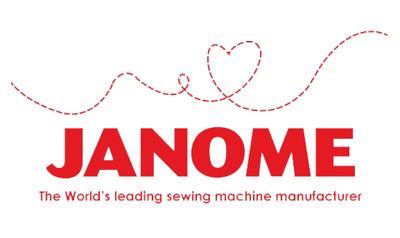 We are an authorized dealer of Janome brand sewing machines, the world's largest producer of practical home sewing machines. Originally called New Home in the United States, Janome has been manufacturing sewing machines since 1860, and Janome America celebrated its 150th anniversary in 2010.
Janome is known across the industry for high-quality and innovative products. In fact, the company established the first-ever research center for sewing machines! They were the first to develop a computerized machine for home use (the Memory 7, in 1979), and the first to offer professional style embroidery to the home market (the Memory Craft 8000, in 1990). Their mission is to constantly find ways to improve the performance and reliability of Janome sewing machines.
From the top-of-the-line flagship machines to the everyday value models, you can rely on Janome's enduring commitment to innovative design, unparalleled reliability and consistent quality. We stand behind every one of our Janome products.
Below is a sampling of our current in-house line of machines. Click on an image for a full description of the machine. And, being an authorized dealer, if there is another model that you are interested in, we can have it here for you in a matter of days.
Price shopping? We'll match the best advertised price that you find on a new model. Simply show us the ad and we'll match it! To see the full line of Janome sewing machines, sergers and accessories, please visit www.janome.com.
The machines below are available at our store in Vernon, NJ. Most models are also available in our webstore, so if you enjoy the convenience of shopping online, click HERE!
Janome Magnolia 7318
Easy to use features and supreme functionality unite in the Magnolia 7318. It's the perfect machine for all of your projects: quilting, garments, crafting, home dec, and more. With 18 decorative and utility stitches, easy electronic features, and the power and precision you can expect from Janome, all of your projects will get done quickly and easily. The Magnolia 7318 is the perfect machine for your lifestyle and your budget.
Janome Magnolia 7330
The Magnolia 7330 is the most advanced machine in the Magnolia Line. Perfect for creating any kind of home decor or sewing project, it enables you to add your personal flair to your home and wardrobe. You'll get 30 decorative stitches, and lots of great automatic features. Incorporating the same Janome precision and technology that goes into all of our machines, the Magnolia 7330 helps you define yourself at a great price.
Janome HD 3000
The HD-3000 is a heavy duty machine, perfect for a beginner or sewist looking to do a wide range of sewing. A handy instructional guide is located in the top tray door of the machine, which indicates the feet and stitch settings for a variety of sewing tasks. Heavy duty aluminum body and 18 stitches, including a one-step buttonhole. Stitch length and width adjustment are conveniently located on the front of the machine, and a hard cover comes standard for easy storage.
Janome Memory Craft 6600
The Memory Craft 6600 Professional has the speed and precision critical to advanced sewing. It contains loads of features created especially for quilters, including the AcuFeed system, which ensures your sewing and quilting are even, smooth and precise on all types of fabric. The AcuFeed foot is integrated with a unique seven-point feed dog system, so your fabric is guided perfectly from the top and the bottom.
Janome 2212
The Janome 2212 is a quality entry level model offered at a fantastic price! This mechanical machine features 12 built-in stitches and a four-step buttonhole. Dial pattern selection and stitch width and length adjustment ensures ease of use. Great features like a free arm and drop feed make it versatile for all types of sewing. Lightweight and easy to use, this is the perfect machine for a beginner and the price is just right!
Janome Magnolia 7034D
A serger is the perfect companion machine for the developing sewist, and a must for creating professional-looking garments. The Magnolia 7034D gives you a wide range of serging features in a compact machine. With easy dial adjustments and 1,300 stitches per minute, you'll get your projects done quickly and easily. Bring Janome sewing quality into your home with a serger that's perfectly priced and perfectly sized to fit your lifestyle.